TietoEVRYn SAP-sertifioitu kumppaniratkaisu Brownfield-konversioon
07.06.2021 15:00 - 16:00
Tervetuloa mukaan SAP Finug Hosted by TietoEVRY -webinaariin 7.6.2021 klo 15:00!
Miksi SAP S/4HANA -käyttöönotto kannattaa tehdä konvertoimalla vanhasta SAP ERP -järjestelmästä?
Konversio tarjoaa nopean vaihtoehdon siirtyä uuteen teknologiaan kevyemmällä mallilla.

Liiketoiminnan uudistaminen voidaan toteuttaa vaiheistetusti teknisen käyttöönoton jälkeen.

Loppukäyttäjät voivat hyödyntää samaa osaamista ja SAP-käyttöliittymää kuin aiemmin ja uudet SAP S/4HANA -ominaisuudet voidaan ottaa käyttöön vaiheittain.

Konversiossa säilytetään olemassa oleva lisenssiomaisuus, data, tarkoituksenmukaiset SAP-konfiguraatiot ja asiakaskohtaiset ohjelmat tukemaan olemassa olevia liiketoimintaprosesseja.

SAP-lisensoinnissa voidaan osin hyödyntää jo ostettuja lisenssejä maksamalla vain SAP HANA -tietokantalisenssi ja SAP S/4HANA -ohjelmistolisenssit. Tällöin voidaan jatkaa Professional / Limited Professional -käyttäjälisensseillä.
TietoEVRYn paketoitu konversioratkaisu on SAP:n sertifioma kumppaniratkaisu. Esittelemme mitä tämä tarkoittaa käytännössä:
tuotteistettu ratkaisu ja projektimalli nopeuttamaan ja tehostamaan S/4HANAan siirtymistä konvertoimalla S, M, L kokoisille yrityksille.

Kerromme miksi paketoitu, valmiiksi hinnoiteltu ratkaisu on riskitön ja asiakkaalle kustannustehokas vaihtoehto.
Käymme läpi Brownfield-konversiomenetelmän vaiheet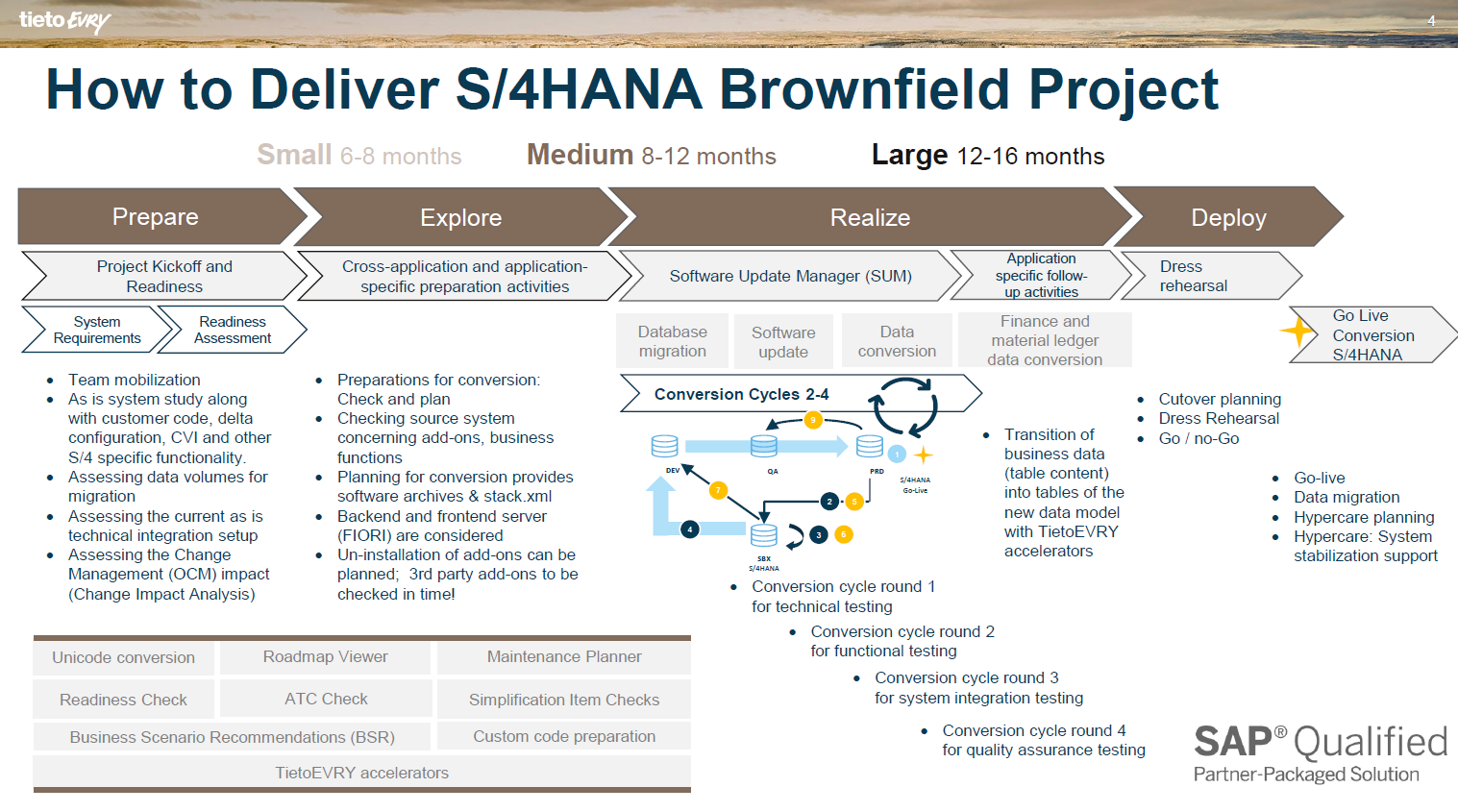 Kerromme miten S, M, L -kokoiset paketit hinnoitellaan konversiomenetelmälle. Mallin valinta riippuu kolmesta tekijästä: 1) liiketoiminnan monimuotoisuudesta, 2) SAP-ratkaisun toiminnallisesta laajuudesta sekä 3) teknisestä monimutkaisuudesta kuten tietokannan koosta ja asiakaskohtaisten räätälöintien määrästä. Kussakin paketissa on omat projektisuunnitelmansa työmääräarviointeineen.
Lisäksi kerromme ohjeita S/4HANA-konversiota harkitseville
Jos olet jo hankkinut HANA-tietokantalisenssit ja ottanut ne käyttöön on konversiomenetelmä nopein, helpoin ja kustannustehokkain vaihtoehto. Pääset nopeasti lähtötilanteesta valmiiseen varsinaisen S/4HANA-ohjelmiston asennukseen konversiokierroksilla.
Miksi pitää panostaa datan siivoukseen heti alussa. Esim mitä on pakolliset muutokset kuten asiakas- ja toimittajatietojen uusi käsittely S/4HANAssa ja mitä toimia vaaditaan ennen konversiokierroksia ?
Miksi liiketoiminta on otettava mukaan hankkeeseen tunnistamaan uusia mahdollisia ominaisuuksia prosessien parantamiseksi sekä testaamaan vanhat toiminnallisuudet S/4HANAssa ?
Puhujat
Mikko Vepsäläinen, Head of SAP presales, TietoEVRY Oyj
Heikki Kuvaja, Solution Architect, TietoEVRY Oyj
Tiia Kokko, Head of SAP, TietoEVRY Oyj
Ilmoittautuminen
Tilaisuus on suunnattu SAP Finug käyttäjäjäsenille. Liity mukaan alla olevalla Ilmoittaudu-painikkeella. Ilmoittautuminen Hosted by -webinaariin tapahtuu Oppia.fi -sivustolla, jonne voi myös rekisteröityä. Oppia-tunnuksella yhteystietosi pysyvät ajan tasalla ja voit ilmoittautua helposti tuleviin Finug -tilaisuuksiin. Ilmoittautujatieto luovutetaan järjestävän tahon (TietoEVRY) käyttöön, jotta tapahtumaan osallistuminen voidaan mahdollistaa.
This seminaar will be in Finnish, even material is in English.
Webinaari-alustana toimii GoToWebinar. Testaathan laitteesi GoToWebinar-yhteyden etukäteen, jotta osallistuminen onnistuu toivotulla tavalla: https://support.goto.com/webinar/system-check-attendee
REGISTRATION TO THE WEBINAR CLOSED