Duration: 0.5 days
Description
Etäopetuskurssilla opit, miten QGISin avulla voi ketjuttaa työvaiheita prosessien mallintaja -työkalun avulla. Ketjuttamalla työvaiheita voit tehostaa paikkatietojen prosessointia tai analysointia yhdistämällä työvaiheita ja luomalla niistä omia työkalujasi. Näin usein toistuvat työtehtävät ja analyysit voidaan toteuttaa vain yhdellä klikkauksella tai voit jakaa malleja organisaatiosi sisällä tai vaikkapa asiakkaasi kanssa.
Kurssilla näet myös, kuinka QGISin prosessien mallintaja pystyy hyödyntämään QGISiin integroituja erikoisohjelmistoja, kuten GRASS GIS - tai GDAL -ohjelmisto. Näin pystyt hyödyntämään eri ohjelmistoja QGISistä ilman erillissiä asennuksia tai uusien ohjelmistojen käytön opiskelua ja omaksumista.
MIKÄ ON QGISIN GEOPROSESSIEN MALLINTAJA?
QGISin geoprosessien mallintaja on työkalu, jolla voidaan graafisesti mallintaa ja ketjuttaa työprosesseja. Sen käyttö ei vaadi ohjelmointitaitoja, vaan sen käyttö on intuitiivista ja suoraviivaista. QGISin erikoisuutena on mahdollistaa paikkatiedon erikoisohjelmien (mm. GDAL, GRASS GIS) algoritmien käyttö osana geoprosessimalleja.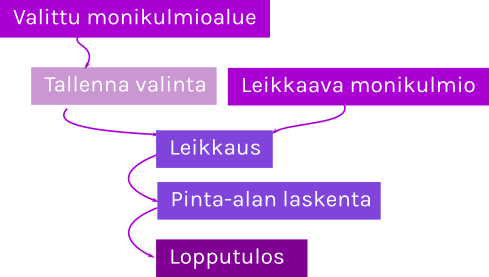 Cancellation terms
If you can not participate this course, you can send someone else instead of you. If cancellation is done less than two (2) weeks before the course start, we will charge 50% of the price. In case of no show without any cancellation, we will charge the whole price. Cancellation fee will also be charged in case of illness.