Duration: 2.0 days
Description
Kenelle?
Koetko, että olet jäämässä jalkoihin siinä muutoksessa, jota moderni mediaympäristö tuottaa? Tuottaako viestinnän monimuotoistuminen stressiä? Etkö oikein pääse alkuun, kun et tiedä mistä lähteä liikkeelle? Pelkäätkö, että kirjoituksiisi ei reagoida tai niihin reagoidaan negatiivisesti?
Ehkä olet jo aloittanut monimediaviestinnän? Tulokset eivät kuitenkaan vielä vastaa niitä odotuksia, joita sinulle on asetettu.
Jos olet johtaja, esimies tai viestintä on muuten työsi keskiössä, tämä kurssi on juuri sinua varten.
Kurssilla tulet myös verkostoitumaan saman haasteen omaavien avainhenkilöiden kanssa. Samalla kun autat heitä saamaan viestisi läpi, he auttavat vastavuoroisesti sinua.
Saat myös meidän kouluttajamentorien laajat verkostot hyödyksesi.
Hyötylupauksemme
Tämän kaksipäiväisen kurssin avulla rohkaistut viestimään modernissa mediaympäristössä – opit ylittämään viestinnän esteet ja poistamaan turhat pelot
Saat toimivia, konkreettisia ja helposti omaksuttavia työkaluja käytännön viestintään
Saat mallit mediasuhteiden luomiseen, kehittämiseen ja ylläpitoon
Opit tiedottamaan DISC-profiilin koko värikirjon mukaisesti (tuttu mm. kirjasta Idiootit Ympärilläni)
Ymmärrät oman vaikuttavuutesi nykytilan ja tunnistat keskeiset kehityskohteet sekä saat välitönvaikutteisia neuvoja arjen karismasi kehittämiseen
Parannat itsetuntemustasi viestijänä ja kykenet ymmärtämään paremmin johdettaviasi, kollegoitasi ja yhteistyökumppaneitasi
Pääset karismaattisen viestijän polulle ja parannat vaikutusvoimaasi ja uskottavuuttasi
Tiedät miten toimia, kun kriisi iskee päälle ja aika on kultaakin arvokkaampaa (silloin on myöhäistä ryhtyä opettelemaan perusteita)
Kouluttajamentorisi
Oheisella videolla kurssin kouluttajamentorit
mediamentonaattori Jarkko Ambrusin ja
johtamisaktivisti Toni Hinkka
haastattelevat toisiaan kurssin teemoista.
https://youtu.be/Q897bpmv2Rs
Jarkko Ambrusin on kokenut päätoimittaja, mediavaikuttaja, ammattimentori ja konsultti. Jarkko tietää kokemuksesta, miten mediaa tulee käsitellä, jotta oma viesti pääsee läpi. Hän on ollut mukana myös lukemattomissa kriisiviestintäkeisseissä.
Johtamisaktivisti Toni Hinkka on huippujohtajien ammattimentori. Mentoroinnin keskiössä on myös sisäinen ja ulkoinen viestintä. Ei ole sattumaa, että useimmat Tonin mentoroitavista ovat hyvin positiivisesti esillä medioissa. Tonin kolumneja, blogieja ja videoblogeja julkaistaan yli 20 lehdessä ja radiossa tavoittaen yli 1,5 miljoonaa suomalaista viikoittain.
Kurssin toteutus ja sisältö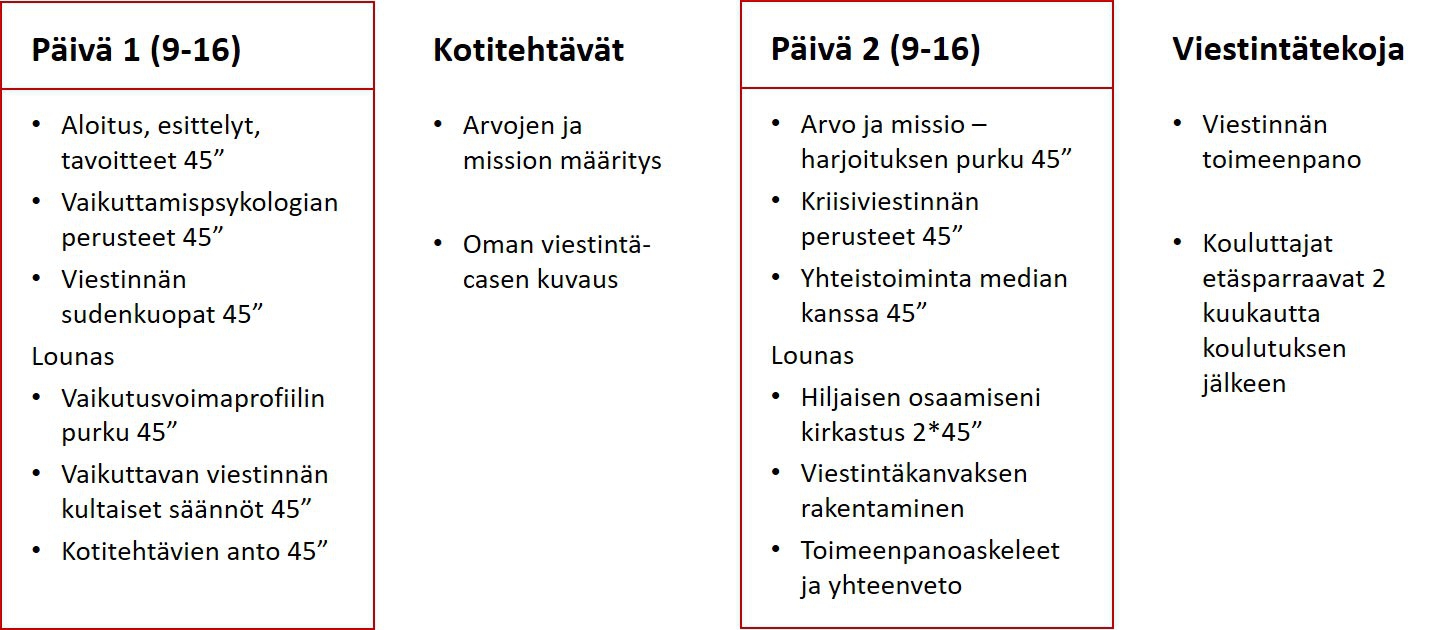 Hinta ja mitä sillä saa
Kurssin hinta on 1 970 € (+alv)/osallistuja. Hinta sisältää:
2 vuorovaikutteista, keskustelevaa työpajakoulutuspäivää
CxO Vaikutusvoima™ ja Extended DISC™ -profiloinnit
Kattavan, monipuolisen ja monimuotoisen oppimateriaalin
Kouluttajien tuen viestintätekoihin 2 kk ajaksi. Kouluttajat kommentoivat ja antavat kehitysehdotuksia viestintätekoihin tämän ajan.
Koulutustilat ja tarjoilut Vantaan Technopoliksessa. Koulutus voidaan toteuttaa myös muualla, jolloin tila- ja tarjoilukustannukset sovitaan erikseen.
Mikäli samasta organisaatiosta osallistuu useampi henkilö, voidaan sopia pakettihinnoittelusta.
Cancellation terms
If you can not participate this course, you can send someone else instead of you. If cancellation is done less than two (2) weeks before the course start, we will charge 50% of the price. In case of no show without any cancellation, we will charge the whole price. Cancellation fee will also be charged in case of illness.